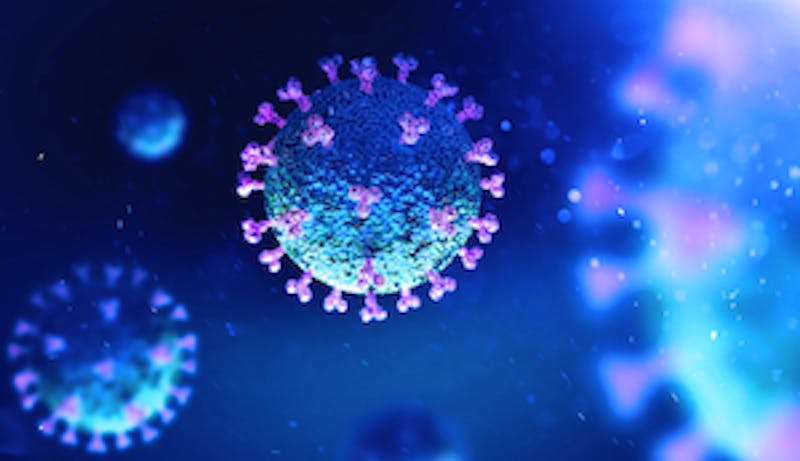 Learn What To Do If You Get Sick On The Job Or Can't Work Due To COVID-19
It's hard to get away from the topic of coronavirus, especially with all the recent event cancellations and school closures. There are lots of questions surrounding this new disease: how can the world mitigate it? How will this affect the economy? Most importantly, how will it affect personal health?
The novel coronavirus is already having a huge impact world-wide. From the volatile global financial markets to the daily routines of millions of Californians, there have already been monumental changes. The strain on our way of life will increase as political and economic measures are taken.
Many of you are concerned about what will happen if you get sick and are unable to work. Others, especially healthcare workers, want to know what happens if you get COVID-19 at work.
In this post, we'll answer those questions with the help of Sergio Puche, a leading employment and personal injury lawyer at the Law Offices of Mauro Fiore, Jr.
Can you claim disability if you contract coronavirus on the job?
If you are unable to work due to a health problem, the general solution is to apply for disability to make up for your lost income. The coronavirus pandemic is no different. The question is whether your particular situation fits the disability insurance options available to you.
There are two kinds of disability insurance: public and private. Public disability insurance is funded through Social Security and is known as "Social Security Disability," or SSD. It's funded through the income taxes paid by every person drawing a paycheck. In California, there are options available for both short-term and long-term disabilities.
On the other hand, private disability insurance is something you purchase for yourself. These insurance policies work similarly to other private insurance and allow you to choose the coverage you want. If you have private insurance, you can check what coverage it offers you through your personal insurance portal.
On the topic of COVID-19 disability, Puche says: "To qualify for disability benefits through your private insurance, depending on language of the coverage, one would likely need to certify through a doctor that you are unable to carry out the duties of your occupation and earn gainful income.
"Also note that most private insurance plans have waiting periods before disability insurance kicks in, i.e. 90 from onset of disability. The EDD has stated that workers who have been diagnosed by a medical professional with coronavirus or have been exposed to the illness, as told by a medical professional, can file a Disability Insurance claim, which provides short term benefit payments to eligible workers who experience a full or partial wage loss."
People working in retail and food service jobs are vulnerable to pandemic issues like coronavirus. They are some of the most likely to be exposed to the virus during their daily work, because customer service involves interacting with others every day. Most hourly jobs do not offer pay for hours not worked, so these workers need to be on-site in order to earn the money they need to live. Short term disability for coronavirus can help these workers recover without infecting their clientele.
The most at-risk segment of employees, however, are those in the healthcare field. CNAs, home care workers, and many other healthcare professions remain hourly positions. Obviously, the nature of working with patients who are ill, elderly or both makes these high-risk jobs in terms of exposure to the COVID-19 virus. Fortunately, short-term disability benefits can help these workers cover expenses should they fall ill.
Can you get workers' compensation if you get the coronavirus at work?
Workers' compensation is designed to cover people who get injured on the job. In order to be eligible for workman's comp benefits, the injury you sustain must occur in the course and scope of your employment. This is a complicated way of saying that you have to be 1) working, and 2) doing your job when you get hurt to receive the benefits. So what about contracting COVID-19 while at work?
Since illness is a natural consequence of their jobs, the workers' compensation claims of healthcare professionals are the most likely to succeed. It is unlikely work comp claims will be successful in terms of other types of work, however, "if [employees] become infected in an office setting or otherwise not in the medical field."
According to Puche, "Health care workers have the best argument for making a workers' compensation claim [due to COVID-19], since the work injury would truly be work-related."
That means that most non-medical employees may have difficulty getting workers' compensation for coronavirus-related illness. Even if it is likely that infection happened in the work environment, workers' comp may not consider it the result of a specific job hazard.
Is a medical professional who transmits the disease at work committing medical malpractice?
If a medical professional contracts coronavirus, they can transmit it to others just like anyone else with the disease. Unfortunately, the people that healthcare workers interact with are generally much more vulnerable than the average population. The question is whether this can be considered medical malpractice.
"Malpractice is determined on a case by case basis," Puche says. "If the circumstances surrounding transmission qualify, there may be a claim against a medical professional who transmits the disease to a patient."
There are specific guidelines that must be met for a medical malpractice claim. For an incident to be considered medical malpractice, the medical professional or facility must fail to meet the "medical standard of care." This is considered the level of care that a typical, reasonable medical professional would ordinally provide in similar situations.
If a doctor suspects they have coronavirus but does not get tested, then transmits the disease to their patients, then it could be argued that they committed medical malpractice. On the other hand, if the doctor is not yet aware that they have been infected, then they are not breaking any standards of care.
If you have concerns about potential medical malpractice cases, then consulting an attorney about your particular case is your best option.