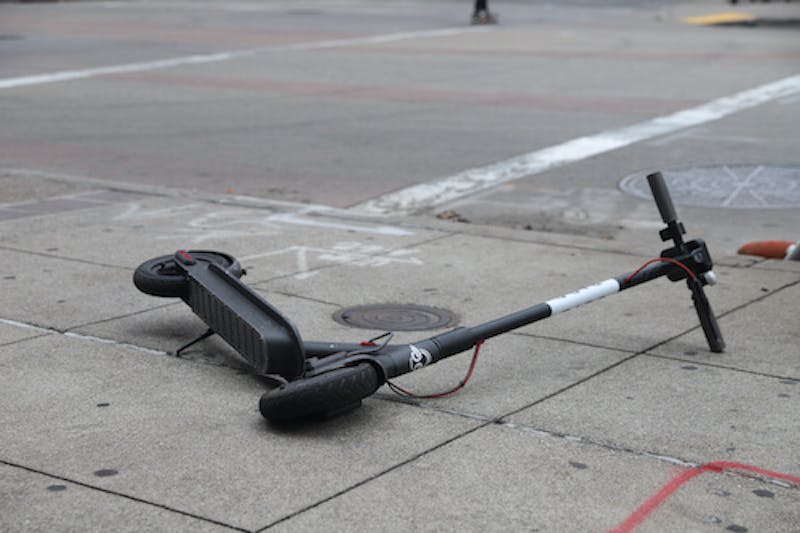 Cities that are hoping to reduce pollution and traffic are increasingly promoting the use of electronic scooters, which are often provided by private companies that rent out these devices for a short period of time via a phone application. Residents and tourists alike take these devices out for a ride and then drop them off at their destination. These devices are now commonplace in cities like Los Angeles and Santa Monica, but they may be causing serious accidents, including head injuries. If you were harmed in an e-scooter accident, it is important that you understand your legal rights and whether you may have a valid claim to pursue compensation for your medical expenses, lost wages, pain and suffering and other damages. A personal injury lawyer can discuss these factors with you during a free, no-obligation consultation.
Dangers of E-Scooters
E-scooters can travel up to 15 mph, and when they are in the hands of an inexperienced user, they can be very dangerous. These devices appeal to children, who may not recognize the safety risks, and adults who may have problems maintaining balance on them. However, these risks have not stopped people from using these devices; in 2018, riders took 38.5 million trips on rentable scooters across the United States. E-scooters are the latest transportation trend, resulting in Lime-S scooters being available in 60 cities in the United States and six cities internationally.The prevalence of these devices are directly correlated to the number of accidents that occur on them. A study by researchers from Rutgers University found that injuries stemming from electronic scooter use jumped from 2,325 in 2008 to a staggering 6,957 in 2018.A novel study published in the medical journal the JAMA Network Open focused exclusively on two emergency room departments that saw patients from Sept. 1, 2017 to Aug. 31, 2018 in two urban emergency departments associated with an academic medical center in Southern California. Researchers found 249 people involved in e-scooter accidents who required emergency medical care. Of these patients, 228 were riders, and 21 were non-riders. The most common reasons for accidents were:
Falls – 80.2%
Collisions with objects – 11%
Struck by a moving vehicle or object – 8.8%
Researchers found the most common injury types among these patients were:
Head injury – 40.2%
Bone fractures – 31.7%
Cuts, sprains and bruises – 27.7%
A study conducted by Austin Public Health found similar results for riders in Austin, Texas who sought emergency room treatment between September 5, 2018 and November 30, 2018. 190 riders were identified as patients with one-third being injured during their first scooter ride. 48% of those injured suffered head injuries and 35% suffered a bone fracture.
Head Injuries Caused by Electronic Scooters
Accidents stemming from electronic scooters can cause serious head injuries, as indicated by the results of the studies discussed above. Some types of head injuries that e-scooter accident victims may suffer include:
Notably, only 4.4% of the patients identified in the Los Angeles study who sought medical treatment were wearing a helmet at the time of their accident. In 2019, California passed a law that no longer required adult e-scooter riders to wear a helmet. Even though companies like Lime recommend helmet use, there is obviously a very low rate of adherence. Individuals who have sustained an injury in an e-scooter accident should seek immediate medical treatment. They should also keep all medical records and bills, which will be pivotal in establishing damages for a personal injury claim.
Who May Be Responsible for Electronic Scooter Accidents
Because community e-scooter use is a relatively new phenomenon, regulations for their use have lagged behind, so liability is not always easy to determine. Depending on the circumstances surrounding your claim, the following parties may be responsible for damages stemming from electronic scooter accidents:
The e-scooter rider if he or she was speeding, not following the rules of the road, or was driving carelessly
The driver of a vehicle that collided with an e-scooter rider if the driver did not yield the right-of-way or drove negligently
The scooter company if the scooter was not properly maintained
The scooter manufacturer, if the scooter was defective
The property owner if the accident was caused by a dangerous condition on the property
Because liability can be difficult to determine in e-scooter accidents, it is important to contact a personal injury lawyer knowledgeable about e-scooter accidents.
Contact an Experienced California Personal Injury Lawyer for a Free Consultation
If you were injured in an e-scooter accident, do not hesitate to contact an experienced California personal injury lawyer. He or she can identify all potentially liable parties, gather evidence to establish liability, and negotiate a fair settlement with the insurance company. Contact us today to schedule your free, no-risk case review.