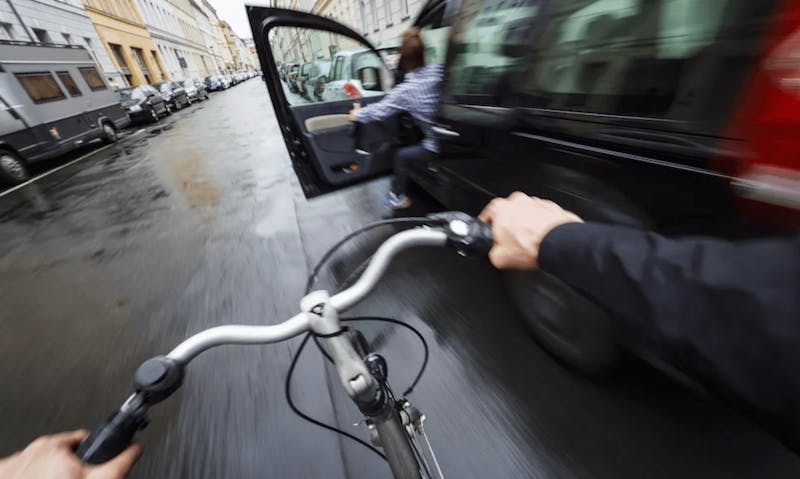 Cyclists are susceptible to a wide range of road hazards, including potholes, debris, inattentive drivers, and much more. However, one hazard that avid cyclists may fear of most is being 'doored,' which can result in a serious injury and even death. Also referred to as 'dooring,' this scenario occurs when a motorists suddenly opens their door, which is in the path of a bicyclist. Believe it or not, dooring happens to be the cause of a significant amount of bicycle accidents. Therefore, it is imperative for both bicyclists and motorists to be extremely cautious and alert to reduce the risk of a dooring accident.
What Happens in a Dooring Accident?
There are two different types of scenarios that can arise from a dooring accident, which are (1) the cyclist collides head on with an open door, resulting in being flung from the bike or (2) the cyclist swerves to avoid the door, resulting in crashing into traffic.
If you have been involved in a dooring accident as a bicyclist, it is imperative to seek medical attention as soon as possible and contact a bicycle accident lawyer in Los Angeles to protect your best interests.
What to Do if You've Been Doored
Dooring accidents can result in extremely serious injuries and sometimes even death. If you have been doored, then it is imperative to contact authorities so he or she can conduct a police report and it is also important for you to seek medical attention as soon as possible.
Before leaving the scene, be sure to document the scene with photos and videos and speak to any witnesses who are present. These factors are imperative later down the line when pursuing an accident claim or lawsuit.
When you receive medical attention, be sure to keep track of medical records and medical bills, as well as lost wages and any other losses as a result of your injury.
Lastly, if you have sustained a serious injury, it may be in your best interest to speak to a bicycle accident lawyer in Los Angeles to protect your rights.
Contact Our Team at Fiore Legal
At Fiore Legal, our team specializes in helping bicycle accident victims. We understand that dealing with the aftermath of an accident is extremely difficult and we are here to help you every step of the way. Contact us today for a free consultation with a Los Angeles bicycle accident lawyer.